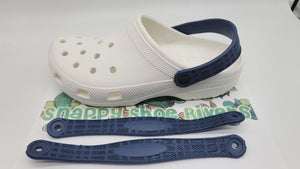 Blue replacement straps O
The EVA Blue  Replacement Shoe Clog Straps are a durable and stylish accessory that can be used to repair or customize your favorite clog shoe. These straps are made from high-quality EVA material, which is lightweight, waterproof, and resistant to wear and tear.
The blue color of the straps adds a fun and vibrant touch to your clog shoe, making it stand out from the crowd. The straps are designed to fit most clog shoes comfortably.
In addition, the EVA Blue Replacement Shoe Clog Straps come with four rivets for easy installation. These rivets ensure a secure fit and prevent the straps from slipping or coming loose.
Overall, these replacement shoe clog straps are a great option for anyone looking to add a pop of color or replace worn-out straps on their clog shoes. They are durable, easy to install, and offer a comfortable fit.